Join the Kundalini Revolution to practice Kundalini Yoga with our community of Yogi's LIVE each week (taught by Linda) and have unlimited access to our membership library so that you can take a class whenever you like.
We're a vibrant online, ongoing Community of people who love Kundalini Yoga and the still space that it helps to cultivate within
Sometimes exhaustion hits without us even realising we're stressed and fatigue can be a result of chronic stress. Unfortunately we can't always manage our environments to remove the stressful situations but with a regular yoga practice we can manage our internal environments so that we don't become affected by the stress triggers.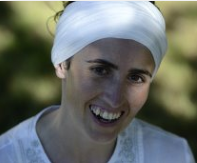 When I first came to a yoga class I was recovering from a serious illness and sleeping intermittently nearly 20 hours per day. After that first class I had enough energy to take my brothers dogs for a walk on the beach and get home for a shower without needing a nap! I went about 4 hours without even getting tired – which was more than I had been able to do for 6 months prior!!! I couldn't believe how energised I felt after just one class
I'm pretty sure the energy I get from my yoga practice is due to the fact that all my stresses seem to disappear during a Kundalini Yoga Kriya. For me, a class is like pressing the reset button on your computer. Whatever was eating away at me before a class is either forgotten or resolved by the end and my students say the same.
You need to fill your own cup first
Life is busy. Most people want to be healthy, to eat well, to get out more, to feel fit and vibrant – but it's not always as easy as it sounds. Extra work demands and less time can leave us feeling frayed and emotional and ultimately our health and energy levels suffer.
A consistent Yoga practice can give you the head space you need to put things into perspective. You can prioritize the important things in life and give yourself more energy, feel more balance and self assured that you are on the right track
Choose from a variety of Yoga classes both Live and Pre Recorded.
Bonuses
Regular challenges
Vibrant FB group
Workshops
Testimonials
Linda's morning yoga shapes and structures my days as well as my body & mind. It is always different and I always seem to find something new in myself. 🙏
Máiread
I spent a number of weeks doing a gentle morning yoga on-line with Linda. It was a wonderful way 'to wake up' at 7 am, and really set me up for the rest of the day! Linda's gifted approach to yoga and meditation is suitable for all levels. Linda was also instrumental in bringing the famous Kundalini Yoga master, Guru Dharam, to Ireland in February 2020 for what was a revelatory 2-day workshop I thoroughly enjoyed."
Aidan, Dublin
"I enjoy Kundalini Yoga with Linda.  I find it helps me be more effective getting my work done."
Garry